Says looted money given to a terrorist outfit for execution of plot PPP to serve notice to Imran over leveling 'allegations' against Zardari LAHORE: Pakistan Tehreek-e-Insaf (PTI) Chairman Imran Khan Friday made a stunning...
Says agreement will encourage multilateral lenders to support Pakistan Thanks China for commitment on ML-1 project, providing all possible assistance ISLAMABAD: Prime Minister Shehbaz Sharif Friday said that he...
-- Ex-minister arrested for accusing ECP of deferring to army, warning 'those going after PTI' of Article 6 proceedings -- Party says leader shifted to Islamabad despite LHC order LAHORE/ISLAMABAD: The...
Reaffirms resolve to deepen economic and trade engagement with US Ambassador Blome says to continue supporting Pakistan's efforts for economic development ISLAMABAD: Prime Minister...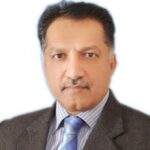 Political turmoil is reaching a crescendo. The Pakistan Tehrik Insaf (PTI) is yelling and screaming for finding the date of early general elections. To achieve this end, the party...