LAHORE: Prime Minister Shehbaz Sharif on Saturday said that Imran Niazi was responsible for the barbaric act of torching of Corps Commander House in Lahore as he planned and instigated the act of arson.
Talking to media during his visit to Jinnah House, the prime minister said the planners, instigators and abettors behind this attack would not be given any relief.
He said Jinnah House was the home of Corps Commander Lahore which was tragically and cruelly burnt on May 9. The rioters attacked and set the house on fire, he said, adding that the arsonists did not care that it was a historical building and the army officer and his family were living there.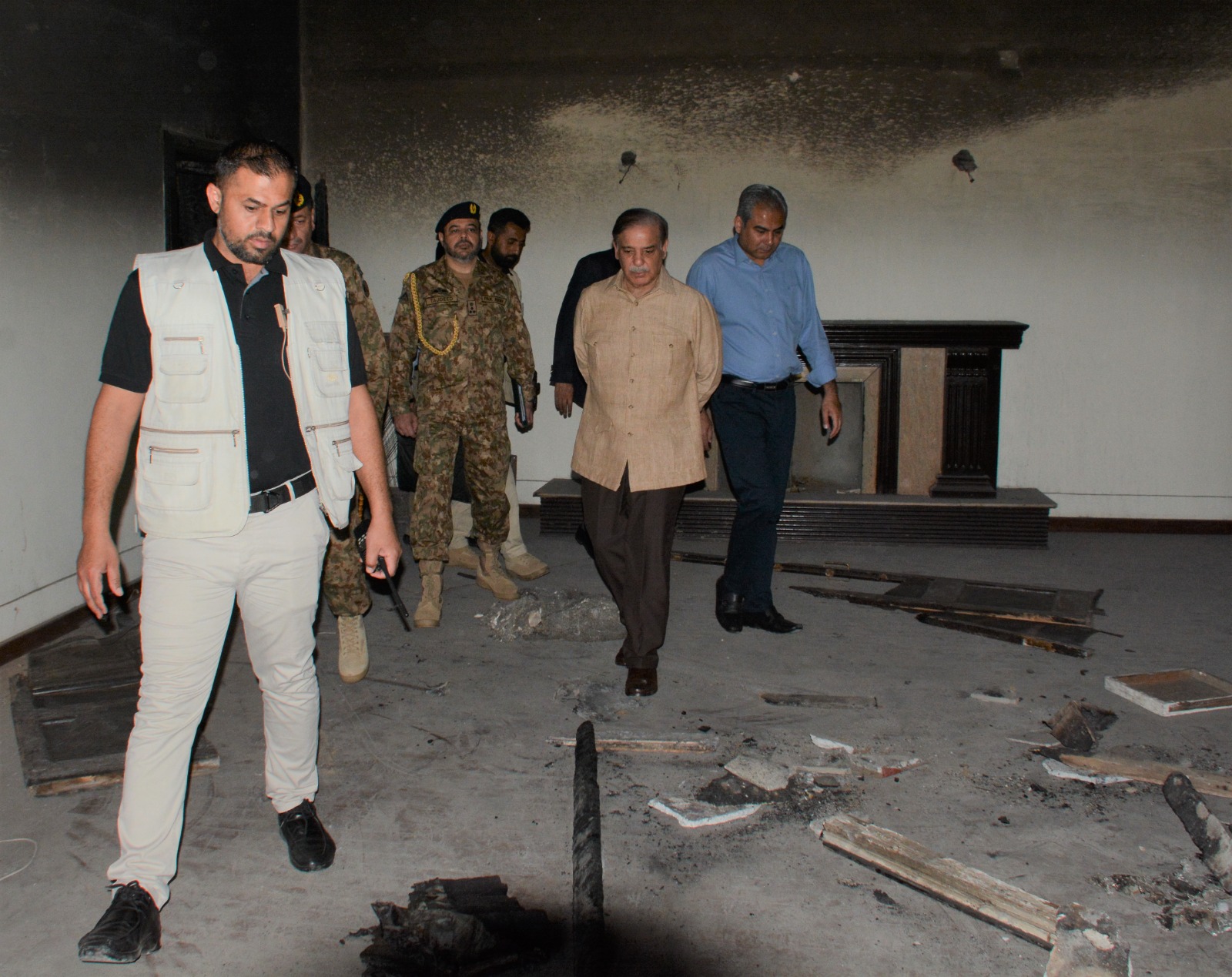 The building was inhabited by the son of the land who was on duty to protect his motherland, he remarked. This was a cruel and anti-state act which never happened before in the 75 years; history of the country. The prime minister said that he was saddened while talking about the incident and said nobody thought that such an incident could happen.
This nation was feeling shy and it was grieving after this episode, he added.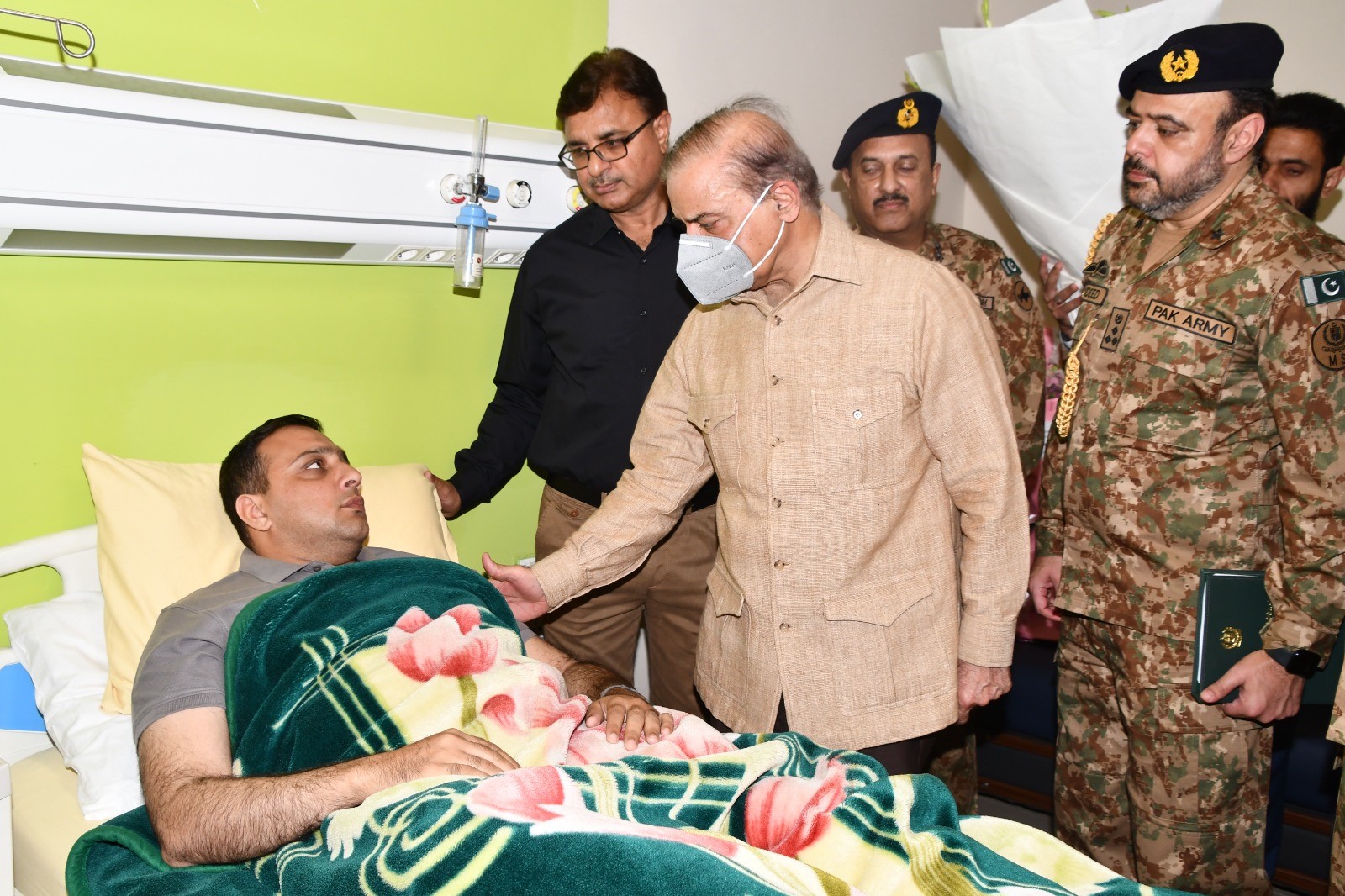 He said that those who perpetrated this act would be brought to justice, adding that such elements would be dealt with iron hands of the Constitution and law by giving them exemplary punishment according to law and the world would remember their fate for a long time.
Shehbaz Sharif said that the barbaric act was committed against those sons of the soil who were eradicating terrorism for maintaining peace in the country.
It was an act against those who sacrificed their lives to protect our borders and their wives become widows and their children become orphans, he added.
Inquired after well being of injured officers at CMH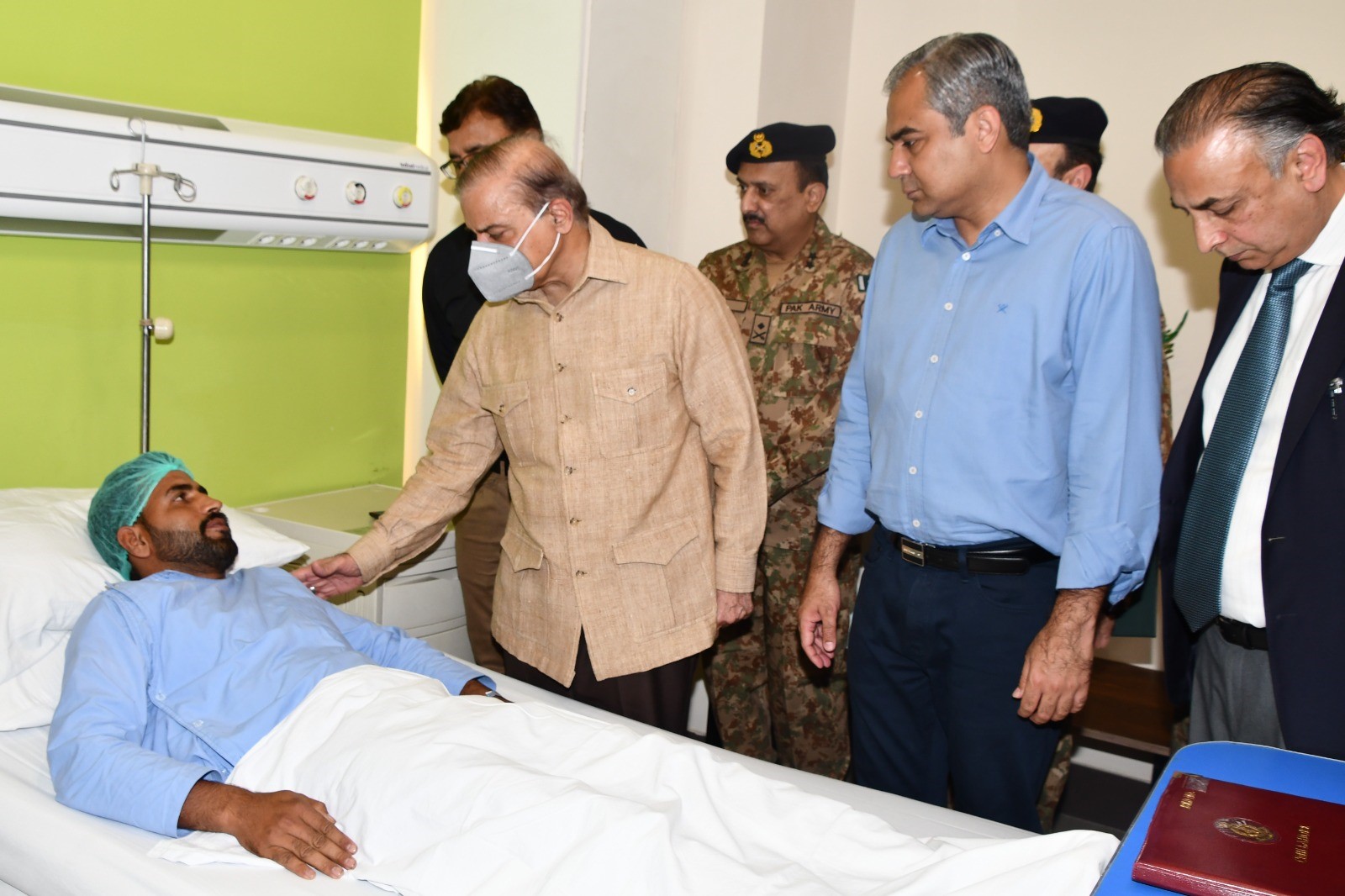 During his visit to Combined Military Hospital and Services Hospital Lahore, the prime minister inquired after the well being of the officers including DIG Operations Ali Nasir Rizvi and jawans who were wounded while performing their duties during rioting
Caretaker Chief Minister Mohsin Naqvi and senior army and civil officers accompanied the prime minister.
IK's statement against Army Chief reflective of diseased mindset
Prime Minister Muhammad Shehbaz Sharif on Saturday said that Pakistan Tehreek-e-Insaf Chief Imran Niazi's statement about the army chief 'is a reflection of his diseased and obsessive mindset'.
On his Twitter handle, the prime minister said that as Director General Inter-Services Intelligence (ISI), General Asim Munir had unearthed the corruption syndicate of Niazi and that was why he had been maligning the chief of army staff (COAS) from day one.
The prime minister, while criticizing the PTI's chief, further said that Imran Khan's statement was also an admission of masterminding the tragic and disgraceful incidents of terrorism undertaken by the PTI's goons at his behest.
"The desecration of the martyrs' monuments and attack on the national installations represent an unimaginable low in our politics," he further added. The prime minister said that the nation stood behind its armed forces and would thwart any nefarious attempts at undermining them.