WASHINGTON: Pakistan's embassy in Washington DC will remain closed from January 4 to January 6 after "possible exposure" to coronavirus, a notification issued Monday said.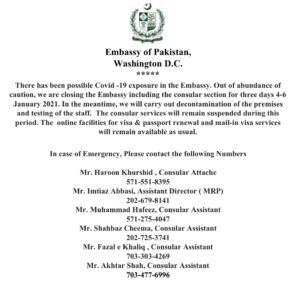 In the notification, the embassy said it will be closing down due to possible Covid-19 exposure. The embassy, including the consular section, will be closed for three days, it added.
Consular services will remain suspended during this period, the notification said, but online facilities for visa and passport renewal and mail-in visa services will operate as per usual.
A decontamination process will be carried out on the premises and all staff and personnel will be tested, the notification further said.