By Ejaz Cheema
ISLAMABAD: Shehryar Khan Afridi, a senior member of the Pakistan Tehreek-i-Insaf (PTI) party, was arrested by Islamabad police along with his non-political wife Rabia Shehryar in the wee hours of Tuesday as authorities use pretrial detention as a punishment for the opposition party.
The arrest took place in Sector F-8 of Islamabad, with the police showing no arrest warrant and cited the Maintenance of Public Order (MPO) law, which allows detention without charges for up to three months but which can be further extended, as the basis for the apprehension.
According to PTI and family sources, there is no information about the whereabouts of Shehryar Afridi and his wife. The PTI condemned the violation of the sanctity of house by the law enforcement agencies and demanded action against the violation of human rights enshrined in the constitution.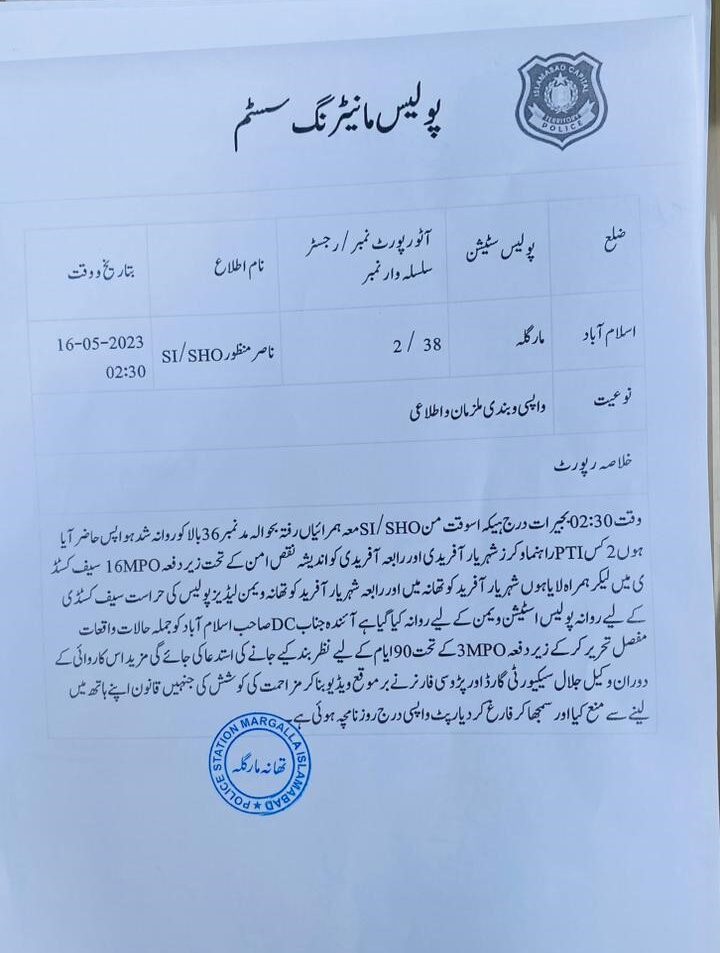 The arrests comes as part of an ongoing crackdown on the leadership, activists, and supporters of the party in connection with the violent protests that occurred following the arrest of former prime minister Imran Khan on May 9.
The PTI has been facing increased scrutiny and action from law enforcement agencies as a result of the unrest.
In addition to Afridi's arrest, Fayazul Hasan Chohan was also taken into custody in Rawalpindi. Chohan, who was on his way to the press club from Liaquat Bagh, was detained by authorities.
Meanwhile, in Sindh, the provincial government has declared the home of former minister Ali Zaidi as a sub-jail. This decision was made following Zaidi's arrest on May 9 by law enforcement agencies in response to the disturbances in the Baloch Colony area.
The arrests of these prominent PTI figures and the declaration of Zaidi's house as a sub-jail underscore the intensifying efforts by authorities to maintain law and order amid the recent wave of protests and violence.