— Former PM says he'll return 'with two million' people if polls not announced in six days
ISLAMABAD: Former prime minister Imran Khan on Thursday warned the Pakistan Democratic Movement (PDM) government to set new elections in the next six days or he will again march on Islamabad along with two million people.
He was speaking at a rally of thousands of demonstrators in the D-Chowk neighbourhood aiming to bring down the government and force early elections.
Pakistan will not accept a US-backed government, Khan said in an echo of earlier allegations that PDM component parties orchestrated his ouster with help from the administration of President Joe Biden. Washington has repeatedly denied the charge.
Khan said he "had decided to sit here until the government dissolved assemblies and announced elections."
"They want a fight between us and police. I am giving you 6 days if you don't announce elections I will come back to Islamabad again with all Pakistanis"-@ImranKhanPTI #حقیقی_آزادی_مارچ pic.twitter.com/oY1pvHTYIM

— PTI (@PTIofficial) May 26, 2022
"But of what I have seen in the past 24 hours, the government is taking the nation towards anarchy," he said, claiming it was also trying to create a divide between the nation and police.
He said the government would be happy if he staged a prolonged sit-in in Islamabad as it would lead to clashes between the people and the law enforcement agencies.
The government earlier had summoned the military to guard important buildings, including the parliament and offices of the president and prime minister. The measures came following clashes between demonstrators and police.
Khan said five of his supporters were killed in the police violence across the country. There was no immediate comment from the government.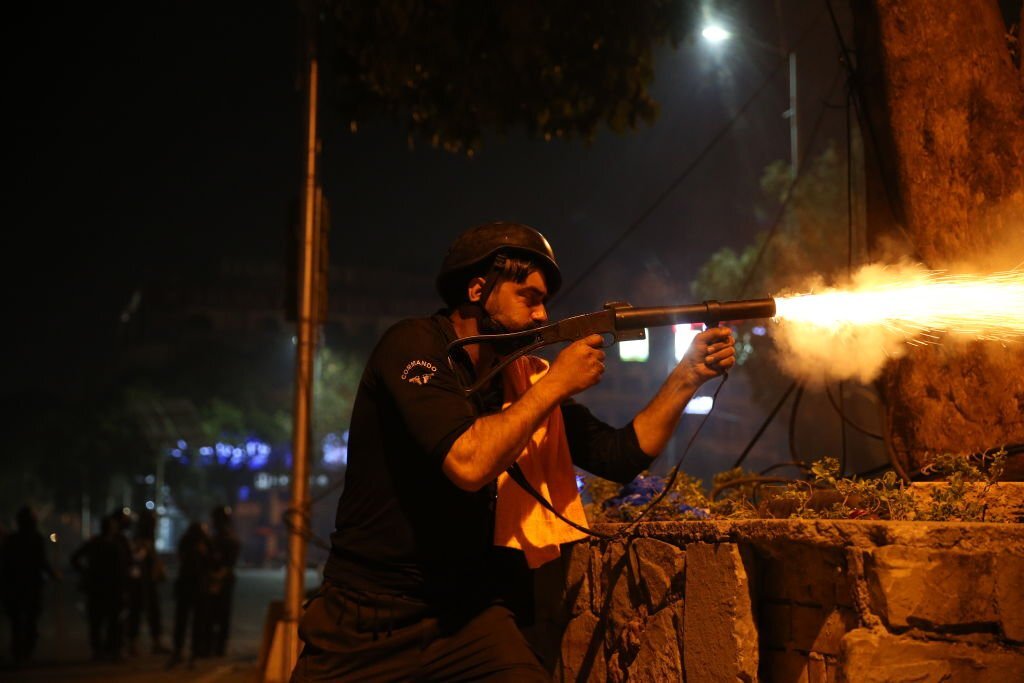 He also called on the judiciary to save institutions like Federal Investigation Agency (FIA) from the corrupt and powerful. "In the future, no FIA officer will investigate the powerful if he will meet the same fate as [Lahore chief of agency] Dr Muhammad Rizwan," he added.
Khan said peaceful protest was the right of every citizen and no one "gives the government right to treat the people in the manner that you treated them".
He said he and the entire nation was looking toward the judiciary after what had happened during the past two days.
DEADLY CLASHES
Earlier, Khan had vowed that he will stage a prolonged sit-in to get his demands accepted.
The Pakistan Tehreek-e-Insaf (PTI) chairman led a convoy of thousands of supporters towards the capital in a show of force the new government has attempted to shut down, with clashes breaking out between police and protesters.
The government of Shehbaz Sharif, who had pledged to stop the convoy from entering the city, called the rally an attempt to "divide the nation and promote chaos".
All major roads surrounding Islamabad, where a heavy security presence is in place, were blocked off with shipping containers while entry and exit points of major nearby cities were also cut off.
Sporadic clashes broke out between police and protesters who have tried to clear the roads, with tear gas fired in several cities.
Clashes initially erupted in Lahore, when riot police fired tear gas and pushed back hundreds of demonstrators who hurled stones as they tried to pass a roadblocked bridge near the city to board busses bound for Islamabad.
Clashes between PTI workers and police in Lahore.#AzadiMarchPTI #LongMarch pic.twitter.com/mrTpV4Kmfp

— Khurram Zubair ☭ (@khurramm_zubair) May 25, 2022
Dozens of Khan's supporters also briefly clashed with police in Islamabad, where the demonstrators set fire to bushes lining a main boulevard, sending smoke and flames rising into the sky.
Altercations were also reported elsewhere, including in Karachi, where demonstrators burned a police vehicle.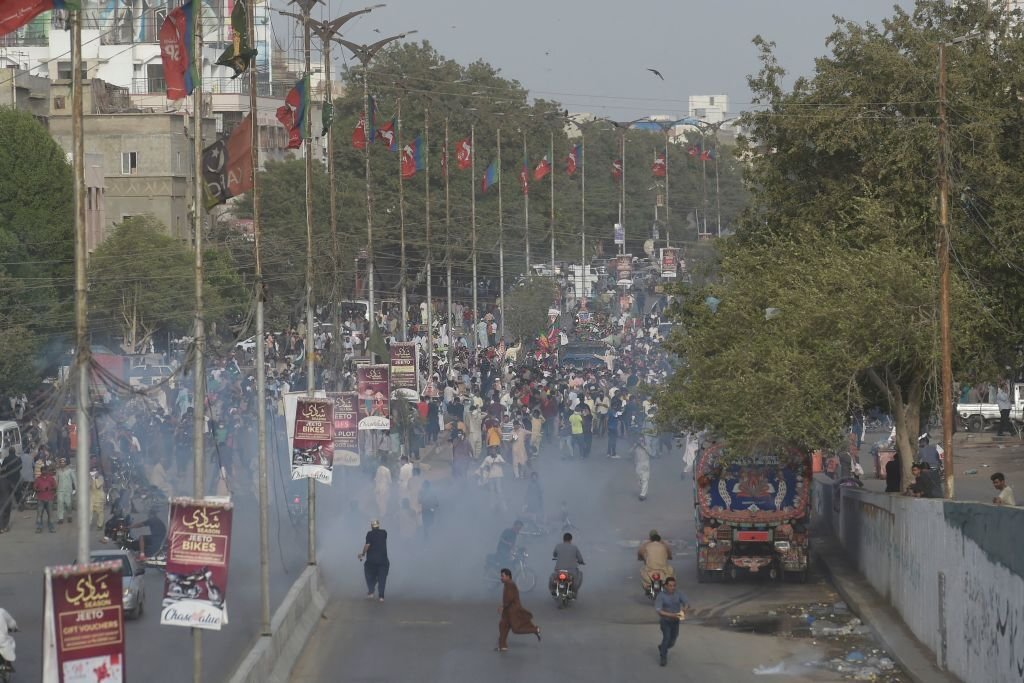 At least a dozen demonstrators and several policemen were injured.
Khan joined the march in dramatic fashion, arriving in a helicopter that touched down on a motorway clogged with supporters outside Mardan, 100 kilometres (62 miles) northwest of Islamabad.
CRACKDOWN
More than 1,700 people have been arrested since police began raiding the homes of PTI supporters on Monday night, said the Minister for Interior Rana Sanaullah Khan, who has previously accused protesters of planning to carry weapons at the march.
The Supreme Court on Wednesday held an emergency session, ordering the government and PTI leaders to hold urgent negotiations.
It also ordered the release of supporters detained by police.
Schools in the capital and Rawalpindi were closed and all exams cancelled, while a state of emergency was declared at all hospitals, with staff put on alert.
"We have seen the capital blocked before but this is something unprecedented," Islamabad private school worker Allah Ditta, 52, told AFP.
Salon worker Sawera Masih complained that the wide-scale disruption was falling hardest on daily wage workers like herself.
"Whoever is in power doesn't make a difference to us, but not earning even for a single day affects me and my family," the 23-year-old said.
In a separate development Wednesday, dayslong talks between Islamabad and the International Monetary Fund (IMF) concluded in Qatar without Pakistan securing a revival of a $6 billion bailout package from the global lender.
After the talks, the IMF urged Pakistan to remove subsidies on fuel and energy. The subsidies were approved by Khan's government in February, forcing the Fund at the time to withhold a crucial tranche of about $1 billion.
— With input from AP, AFP