MUMBAI: Dilip Kumar, one of the biggest stars in the golden age of Indian cinema from the 1940s to the 1960s, died Wednesday aged 98, a family friend said.
"With a heavy heart and profound grief, I announce the passing away of our beloved Dilip Saab, [a] few minutes ago," Faisal Farooqui tweeted from Kumar's official account. He had been battling illness for some time.
With a heavy heart and profound grief, I announce the passing away of our beloved Dilip Saab, few minutes ago.

We are from God and to Him we return. – Faisal Farooqui

— Dilip Kumar (@TheDilipKumar) July 7, 2021
Kumar was born Yousuf Khan in Peshawar, now in Pakistan, on December 11, 1922, the fourth of 12 children to Ayesha and Mohammad Sarwar Khan. His father was a fruit merchant. and moved the family to Bombay, now known as Mumbai, then to Deolali, in west India, where Dilip attended the Barnes School. He then enrolled in Khalsa College in Bombay.
Nicknamed "The Tragedy King" with his brooding good looks, tousled hair and deep voice, he enjoyed a career spanning more than 50 years and nearly 60 films.
But he missed out on international fame after turning down the chance to play Sherif Ali in David Lean's 1962 classic "Lawrence of Arabia". The part went to an Egyptian actor, Omar Sharif.
Among Kumar's most remembered roles was his performance in the lavish historical romance "Mughal-e-Azam", based on the life of Mughal Prince Salim, known by his imperial name, Jahangir.
Kumar received the Padma Bhushan, one of India's highest civilian awards, in 1991, the Dadasaheb Phalke, India's highest award for cinematic excellence, in 1994, and the Padma Vibhushan in 2015. From 2000 to 2006, he served as a member of the Rajya Sabha, the Upper House of Parliament.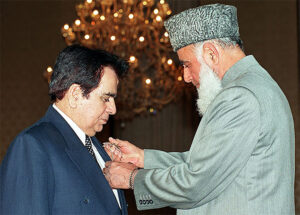 But these honours from the Indian government consumed far less newsprint than the decision by Pakistan, in 1998, to confer on him their highest civilian honour, the Nishan-e-Imtiaz.
Amid heightened religious tensions, Kumar was branded an anti-national by far-right Hindu politicians who asked him to return the award to Pakistan. He did not. He said in his autobiography that returning it "could have only soured relations further and produced bad vibes between India and Pakistan."
— With additional input from New York Times