Ever dreamt of waking up to the sight of snow capped mountains, serene lakes, and a world teeming with rich cultural wonders? Well, get ready because Hunza is calling your name! As you plan your visit to this picturesque paradise and search for the best places to stay in Hunza, you might find yourself overwhelmed by an array of accommodation options. Worry not! We've sifted through them all to bring you the five absolute best places to call home during your Hunza holiday. From luxury resorts offering breathtaking vistas to charming lodges tucked away in verdant gardens – we've got you covered. Prepare to have an unforgettable time in this mountainous wonderland.
 Serena Altit Fort Residence
First, let's talk about the treasure that is Serena Altit Fort Residence. Just a stone's throw away from the historic Altit Fort, this hotel sits elegantly amidst the lush Royal Garden, giving you a sneak peek into the rustic charms of the medieval village of Altit-Khun. By the way, Altit Fort is believed to be around 1100 years old, making it the oldest monument in Gilgit–Baltistan. Serena isn't just a place to stay; it's a journey back in time!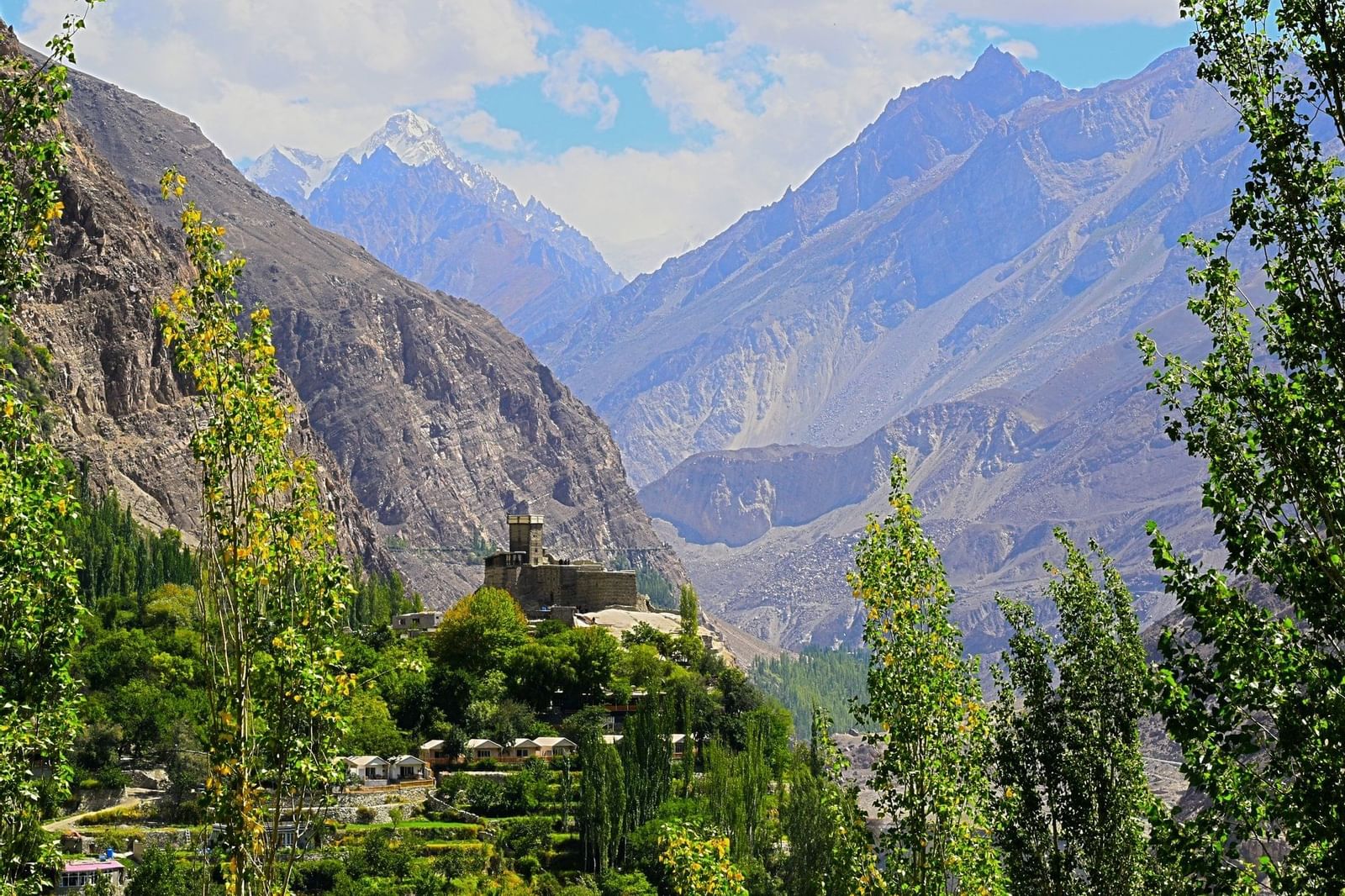 From the common areas adorned with cherished artifacts from the Mir family, to each nook and cranny whispering tales of the past, you'll be entranced by the cultural richness it exudes. What's more, the traditional construction using stone, wooden beams, and limestone seamlessly fuses the building with its breathtaking surroundings.
Here, you have the freedom to choose between the old-world charm of the Royal Garden Residence or the contemporary vibes of the Valley View Huts. Either way, we guarantee you'll be thrilled with your choice. As you meander through the sprawling green gardens, brimming with apricot, peach, and apple trees, the panoramic views of the magnificent Karakoram Mountains and infinite fields will leave you awe-struck. Your other-worldly stay here is what dreams are made of!
 Luxus Hunza
Next we have Luxus Hotel Hunza – a treat for those seeking an unparalleled hospitality experience. With breathtaking views of the brilliantly turquoise Attabad Lake and the mesmerizing mountains, this resort stands out as one of the top accommodation choices in the region.
Located in the town of Aina Abad, on the shore of the famous Attabad Lake, Luxus Hunza gives you a splendid shock of blue you've only seen in pictures! It boasts panoramic views of the lake creating a sense that you can almost walk onto the water (note: that's definitely not a good idea).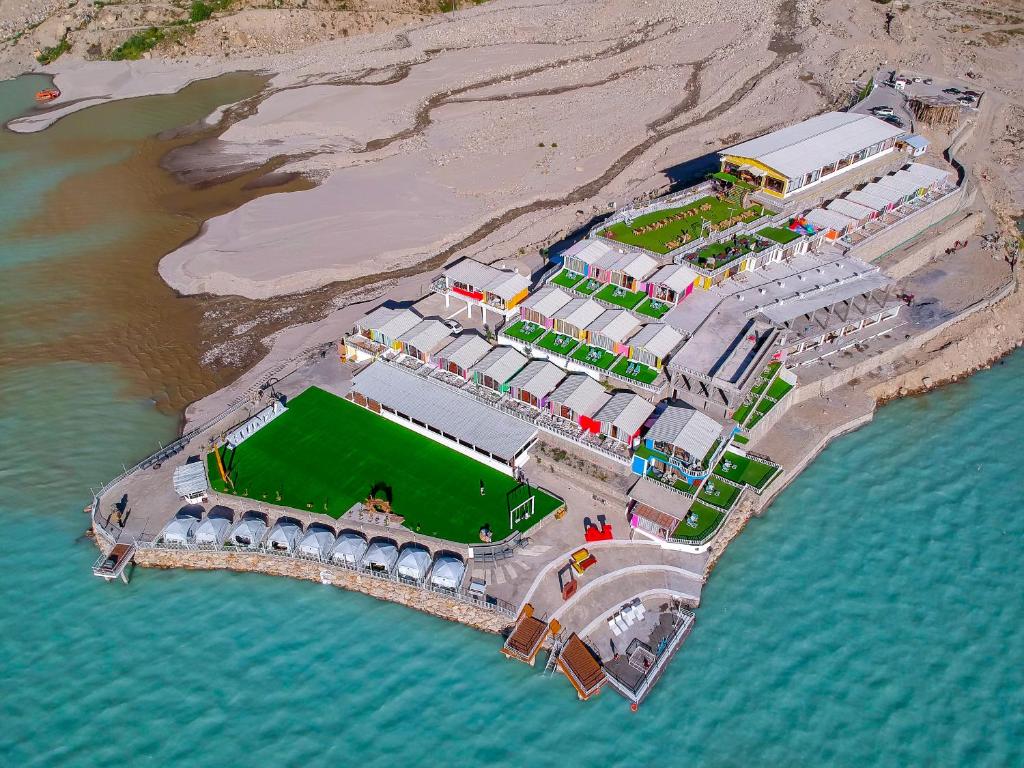 The rooms not only offer amazing views but let in an abundance of natural light creating a bright and uplifting environment for the perfect vacation vibes! Stunning interiors with classic wooden décor – it's the right blend of modern and local. No wonder that this resort has gained immense popularity among travelers seeking a unique Hunza experience.
Not only is Luxus Hunza a scenic retreat, it also offers an outdoor fireplace, a picnic area, gaming and water sports facilities, and a health club – there won't be a dull moment when you're there!
 Ambiance Resort Hunza
If it's luxury you want, look no further: Ambiance Resort Hunza is your ultimate haven for relaxation and indulgence! Amidst the incredible mountains and smack dab in the middle of Aliabad, this resort will have you feeling like royalty in no time. Located near popular tourist places, just a short jaunt from the historic Baltit Fort, the bustling Karimabad Bazaar, and offering scenic drives to Attabad Lake, Passu Cones, and the Khunjerab Pass – Ambiance has 'perfect location' written all over it. From the moment you catch a glimpse of it, you'll know you're in for something special, unlike any other experience in Hunza!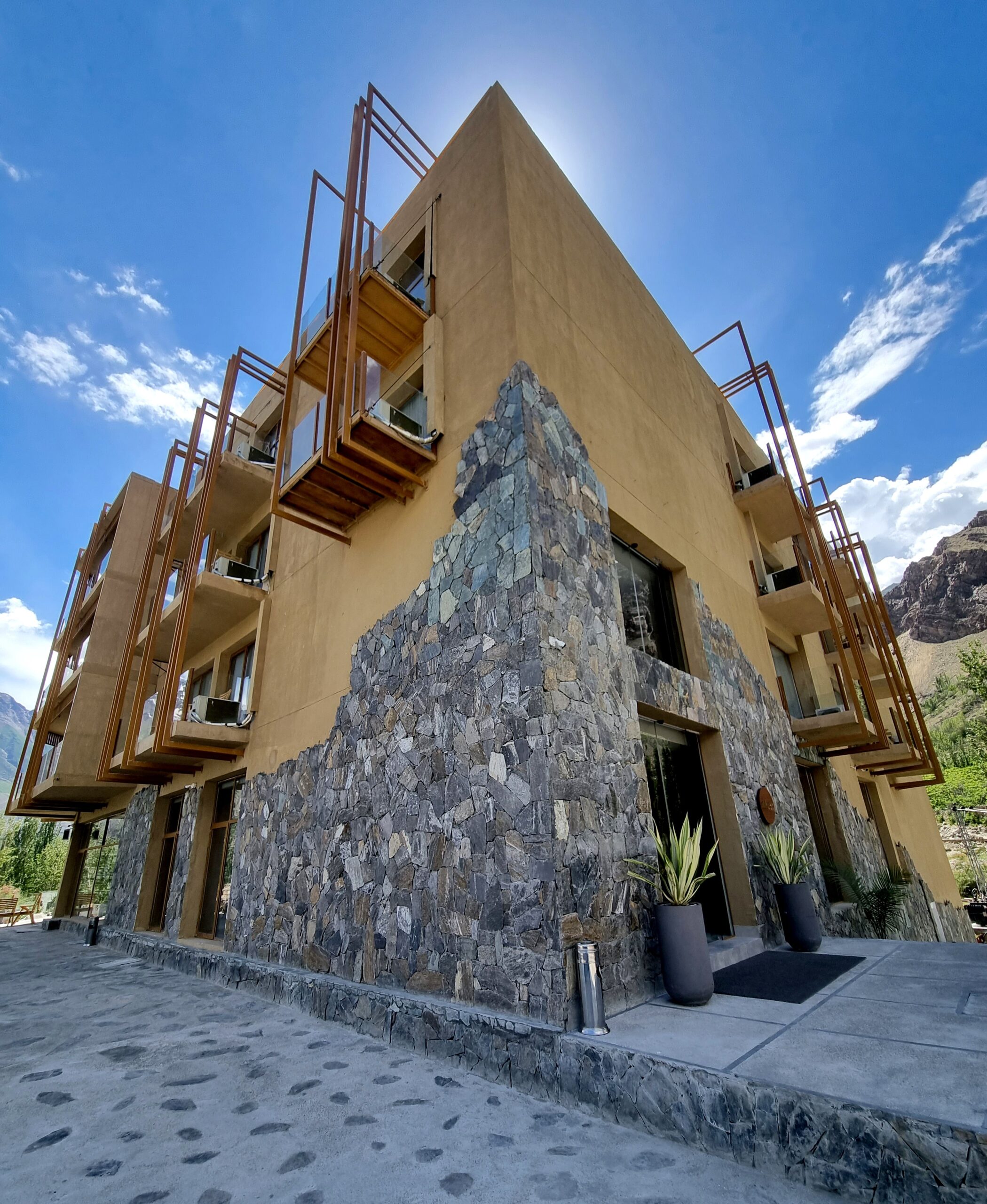 Not just your ordinary hotel, Ambiance takes pride in being Pakistan's first art resort. It's where modern comfort meets contemporary art, fantastic views, and world-class hospitality. Here, everything is a work of art – from the eclectic collection adorning the walls to the interiors, the music that sets the mood, the cuisine at The Art Café, and even the ambiance itself. Feast your eyes on the breathtaking panoramic view of the iconic Rakaposhi, the towering Ultar Peaks, and the Shimshal range. And the rooms? Oh, they all come with private balconies ensuring that wherever you are, stunning views are always a glance away.
Fitness aficionados, rejoice! Gilgit-Baltistan's ultimate wellness experience awaits you at the 4,000 square-foot Ambiance Wellness Centre. It's set to launch soon with a full-service spa, a state-of-the-art gym, and an array of salon services.
Now, for the pièce de résistance – the rooftop. Calling the night view 'divine' would be an understatement. Ambiance Resort's rooftop unveils the night sky as a breathtaking spectacle – countless stars glittering in all their glory – it's surreal, magical, and on dark nights, almost as if you're IN the Milky Way itself. You can just sit on the roof and gaze up in wonder and awe, doing nothing else – and it will probably be one of the best things you do in life! And just so you know, we have no words to describe the views on a full moon night! Trust us on this, don't – and we mean DON'T – miss out on this!
 The2Magpies
Looking for a charming rendezvous with nature? The2Magpies in Aliabad is a great choice and a delightful addition to the region. For anyone who's ever yearned for a mountain retreat, this is your wish come true! Imagine staying in a cozy wooden cottage in a sprawling natural woodland, in the company of apricot trees and towering poplars, myriad wildflowers, quaint winding trails, blue skies and the serenade of birds. Sounds like a scene from a whimsical storybook, doesn't it? Whether you're planning a romantic escape, a family getaway, or a wild adventure with your pals, this idyllic setting has 'perfect vacation' written all over it.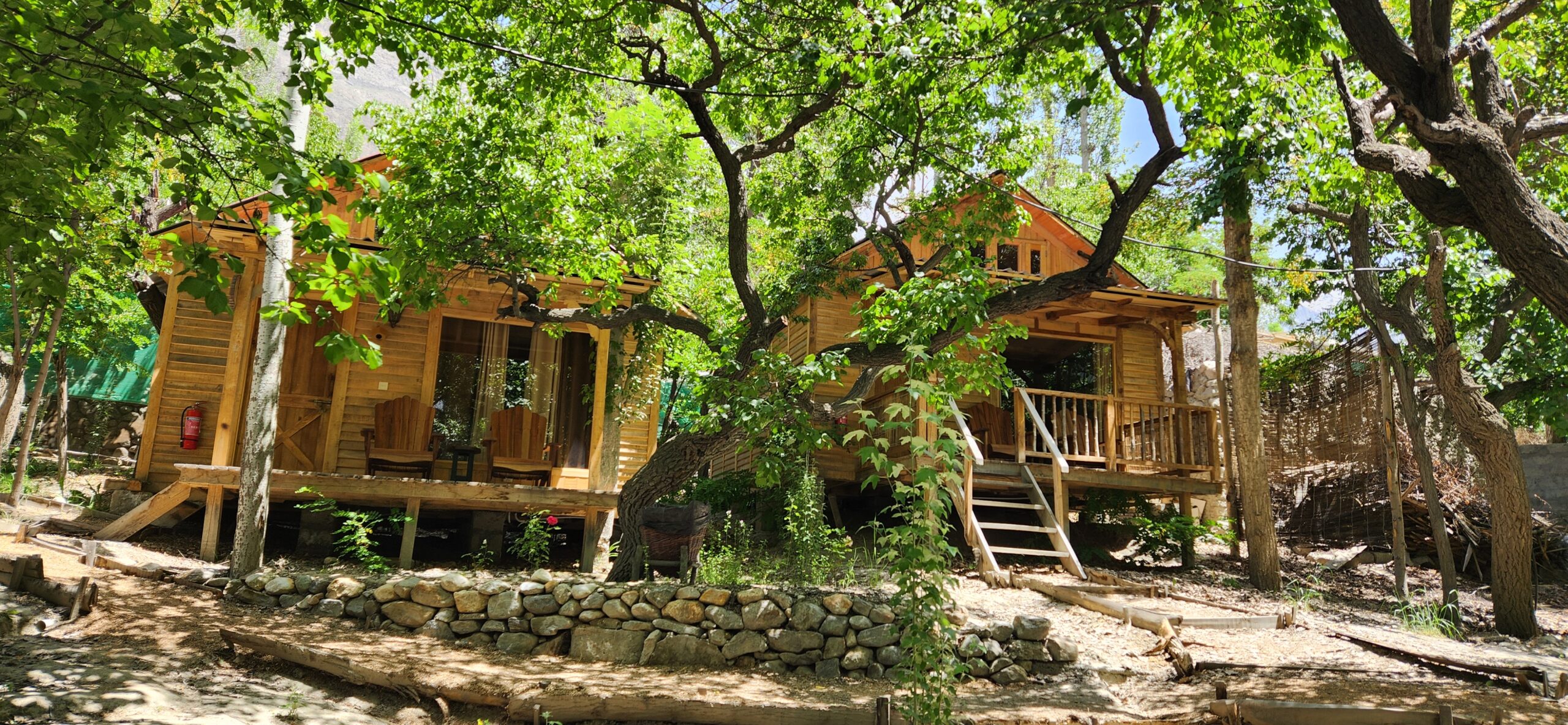 Accommodation at The2Magpies ranges from adorable wooden cabins to spacious huts equipped with outdoor sitting areas and rooftop terraces, perfect for immersing yourself in the beauty around you. What sets The2Magpies apart from the crowd is the unique rustic charm of its interiors. It's not just the use of wood, but how thoughtfully it's crafted that lends the place a delightful, welcoming feel.
Dining here is a treat for the senses. The lodge's restaurant dishes out the region's freshest home-cooked meals, which you can enjoy in a serene private spot or in one of the communal dining areas. Staying at The2Magpies means relishing every moment of your Hunza Valley escape. Here, you get to soak up nature's wonders, bask in the warmth of local hospitality, and create memories you'll cherish forever. You'll be planning your next trip to Hunza before you've even left!
 Eagle's Nest Hotel
Are you ready for a family-style welcome? Since 1994, Eagle's Nest Hotel has been running a show of hospitality that's a class apart. Set atop a cliff in the tranquil Duiker area of Altit, this gem offers a welcome respite from the usual hustle and bustle of the central valley. Perched at one of the highest points in Hunza and soaring at an altitude of 2850 meters, there's a reason it's named Eagle's Nest Hunza. Here, you'll get front-row seats to the renowned golden sunrise and sunset of Hunza – an awe-inspiring spectacle you can enjoy right from your room's balcony.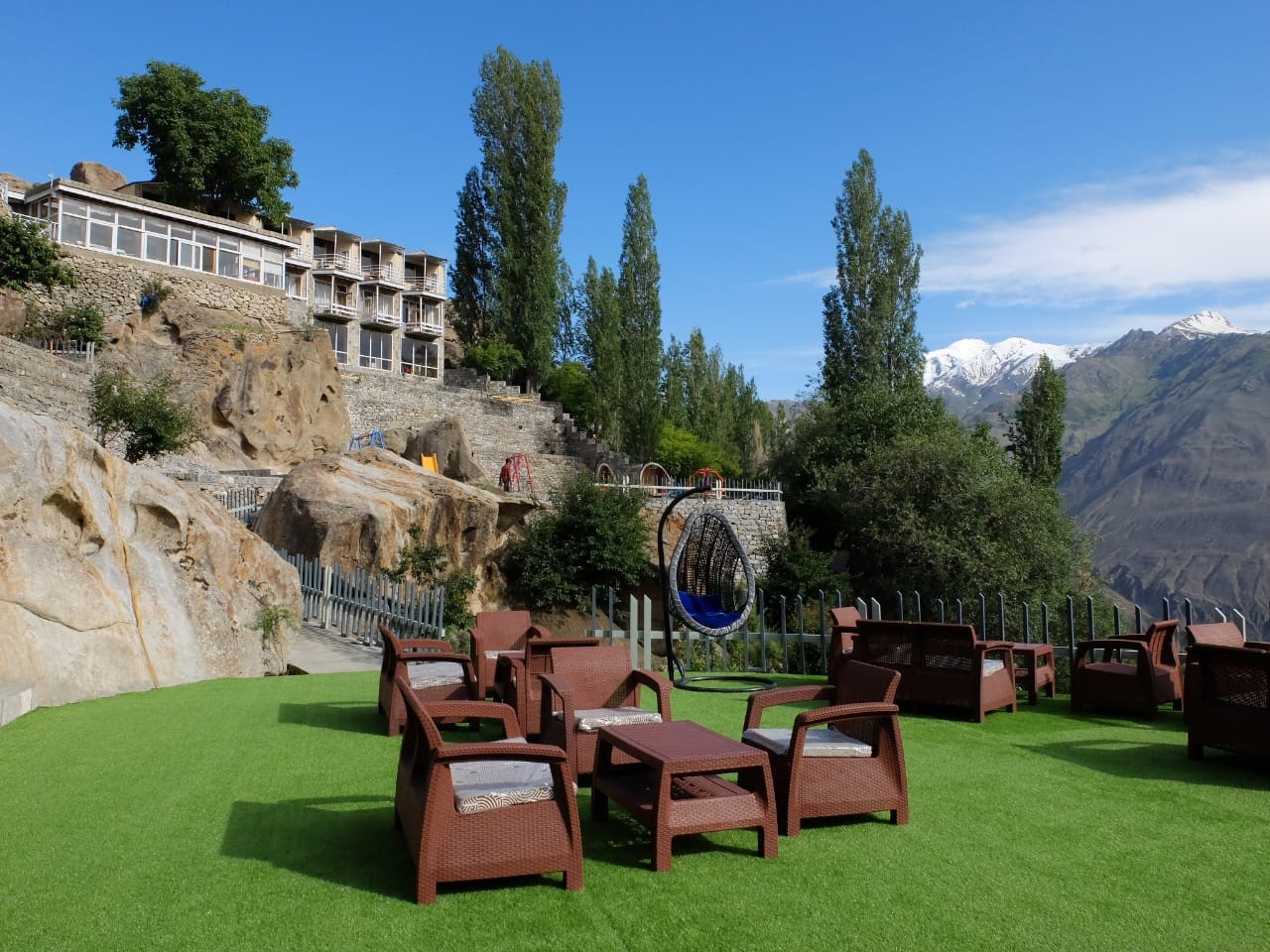 Step inside, and you'll be welcomed by the warm embrace of traditional wood furnishings that lend the hotel a charmingly rustic appeal. The public areas are adorned with hand-woven carpets and artwork, adding splashes of color and culture throughout. Fancy a cozy evening by the fireplace? There's a spacious common area designed just for that. Share stories, make friends, or simply bask in the warm glow – the choice is yours!
And let's not forget the garden sitting area – a little oasis surrounded by mountains where you can breathe in the crisp mountain air. Indulge in delicious, natural foods, and soak in the tranquility that makes Eagle's Nest Hotel a perfect escape. A stay here is more than just a vacation, it's a cherished memory waiting to be made!
No matter what kind of traveler you are – a luxury-lover, a history buff, an art enthusiast, a nature nerd, or a thrill-seeker – Hunza has something to offer for every taste. Each of our handpicked accommodations goes beyond just providing a comfortable stay. They capture and reflect the unique spirit of Hunza's incredible landscape and rich heritage. So choose your haven and get set for a travel experience like no other. Here's to adventures, discoveries, and a whole lot of 'wow' moments in Hunza – one of Pakistan's most amazing destinations. Happy exploring, wanderer!