ISLAMABAD: President Dr Arif Alvi on Thursday conferred Pakistan's prestigious Hilal-i-Imtiaz award on founding editor of daily Pakistan Today late Arif Nizami [October 1948–21] for his meritorious services in the field of journalism.
The awards were conferred posthumously at an investiture ceremony held at the Aiwan-e-Sadr in Islamabad. The ceremony was attended by the cabinet members, diplomats and family members of the recipients of the awards.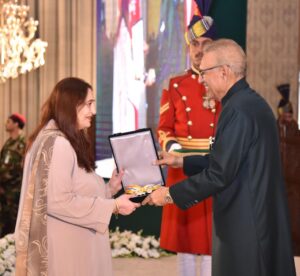 The award was received by the spouse of Arif Nizami. Mr Nizami, 72, was born to Hameed Nizami, the founder of Nawa-i-Waqt Group of newspapers, in Lahore in Oct 1948. Mr Nizami founded daily The Nation in 1986 and served as its founding editor until 2009.
In August 2010, Mr Nizami founded daily Pakistan Today and served as its editor till 2021. He also served as caretaker Minister for Information and Postal Service in year 2013. In 2015, Arif Nizami became CEO of Channel 24. He was also the host of a political talk show "Debate News Analysis".
Mr Arif Nizami is also known for previously hosting a popular current affairs show on Samaa TV. He was also a host in 92 News Talk Show program "Ho Kya Raha Hai".