Alone, far away from home, and penniless, Akhtar Shah found himself living an ascetic existence at a religious seminary in the Iranian City of Qom in the late 1990s. The teenager from Layyah had travelled to one of the holiest sites in Islam and the intellectual and cultural hub of Shi'ism, to gain a theological education.
While his days were filled with debate over philosophy, religious hermeneutics, Arabic, and Persian poetry, his life outside of the seminary was a lean one. The stipend he was given by his seminary was barely enough to get by, even after the free lodging they offered.
Shah's only solace would be going to marketplaces and looking for fellow Pakistanis. Qom is one of the largest hubs of religious tourism in the world, and while a majority of tourists are from within Iran, people from Pakistan and other parts of the world also make the journey to Qom.
Back in the 1990s, the pilgrimage of Iran, Iraq and Syria that a lot of Shia Muslims would make had no real organisational zeal to it. Pilgrims would undertake their own journeys, often hitching rides and fending for themselves to arrive in a place where nobody spoke their language.
Thus one of the vital things they relied on were students like Akhtar Shah in Qom who could help guide them in regards to where to go, what transport to use, where to stay, and where to buy things. Akbar Shah did this duty happily, never thinking about the possible business it could turn into until one day, a shopkeeper offered him a tip for getting a group of women to his store to buy jewel stones.  
That first hundred rupees payment got the wheels turning in Shah's head, and he soon went about different marketplaces, striking deals with several shopkeepers and hoteliers for commissions to direct Pakistani traffic towards their stores.
The next week, a group of pilgrims was coming from his hometown of Paharpur, Layyah. Shah waited for them at the bus stand, welcomed them to Qom, and promptly directed them towards the hotel he had reached an agreement with. For the next three days, he accompanied them all over Qom, and by the end of their visit, Akhtar Shah had Rs15000 in his pocket.  
That was the day he decided to leave his seminary and devote himself instead to the business of tour operations. According to his own estimations, this was probably the beginning of the first tour organisation agency in Pakistan that specialised in zaireen going to Iran and Iraq.
Today, just in Shah's small hometown of Layyah and neighbouring Muzaffargarh, there are 100 different tour operators working on different scales to cater to the needs of the zaireen. A story that began with a Rs 100 tip has now turned into a significant business for thousands of people.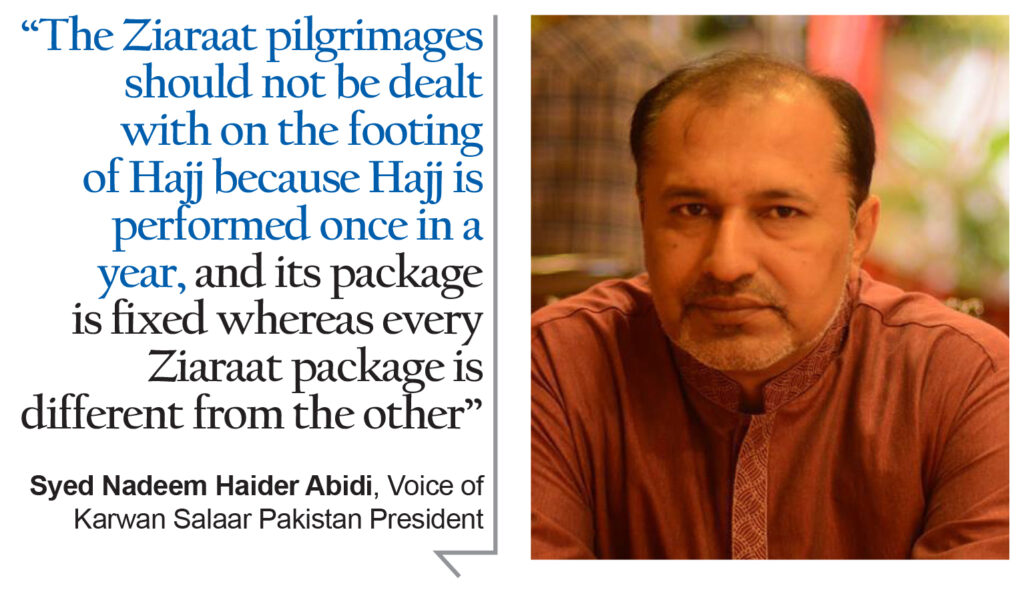 From 1998 to now, Shah's tour operations agency has taken three trips each year to Iran, Iraq, and Syria. And unlike the agencies that provide religious tourism services for the Hajj and Umrah, he and other tour operators have been working with relative impunity and little government intervention.
Now, the relative peace that these zaireen tour operators had been working under may be under threat with the formation of the federal government's Zaireen Management Committee, and the threat of government regulation. And tour operators are worried.
Size of the pie
Pakistan's census data does not record what sect a person belongs to. This means that there is no accurate number on what the country's total Shi'i population is, but different surveys have made it clear enough that it is anywhere between 10-25 percent. This is a significant market.
In the 19990s, there were very few tour operators working in general, and even fewer in the religious tourism department. Back then, it was rare enough for tour groups to arrange visits to Mecca and Medina, and people mostly made all of their arrangements on their own. There were even fewer operators facilitating pilgrims going to Iran, Iraq and Syria.  
But ever since the early 2000s, there has been an influx in the number of tour operators. Pakistanis are going on pilgrimages more than ever, topping the list of most people going for Umrah in 2019 with 2.1 million pilgrims. And according to the Ministry of Foreign Affairs, there were 0.3 million Pakistani zaireen that went on tours of Iraq, Iran, and Syria last year as well.
In large urban cities like Lahore, Karachi, Islamabad and Peshawar, it is a common enough sight to see adverts, banners, pamphlets, and mosque announcements about tour operators offering tour services to those who want to take up the holy journey.  
Up until now, the general consensus we have seen among tour operators has been that it is a good, solid, business with a healthy turnover. Operators essentially offer two kinds of trips or packages, one by air and the other by road.
The pilgrims that choose to go by road first go to Iran via road from Pakistan, and then travel onto Iraq via road again. Tour operators arrange everything in between, from bus spots to hotels, food, shopping trips, visits to religious monuments, and guided tours. While Syria was also once part of the road tours, in recent times, the conditions of the country after the civil war have forced tour operators to abandon the third leg of their standard trips.  
The packages by air naturally cost more, and sometimes begin the other way around, starting off in Syria, and then moving back through Iraq, to Iran and then finally back to Pakistan. Once again, in addition to flight tickets, the tour operators manage all logistics including hotels, food, and on-ground transport as well.
In 2020, tour operators offering a trip to Iran from Lahore were asking for Rs 40,000 for a couple of days stay. Similarly, a tour to Iran and Iraq with Lahore as the beginning destination cost Rs 85,000. Similar air trips cost more, with a trip to just Iran from Lahore costing anywhere between Rs 60,000 to Rs 100,000 for a single person. A tour with travel by air to both Iran and Iraq cost anywhere between Rs150,000 to 200,000.   
Zaireen Management Policy
During the preparation of the finance bill of 2020, the Federal Ministry of Religious Affairs issued the Zaireen Management Policy under rules of Business 1973 to regulate pilgrimage beyond Pakistan i.e. Hajj and Ziaraat. The basis of the policy is that thousands of Muslims of different schools of thoughts visit Holy shrines located in India, Iran, Iraq and Syria every year.
Now, the visits to India are governed under a protocol signed between Pakistan and India in 1974. And Hajj falls under its own detailed sets of regulation, but there was no policy for the zaireen until now. The current policy, according to the government, is supposed to develop plans for the management of zaireen such as arrangements for their boarding, lodging, transportation and health care for their stay in the host countries.
The policy involves the host countries as well, so in this way, the governments of Iran, Iraq and Syria will be involved in the arrangements too. Earlier, these countries had unofficially been managing the zaireen groups through local seminaries located in Qum, Mashhad, Najaf and Karbala.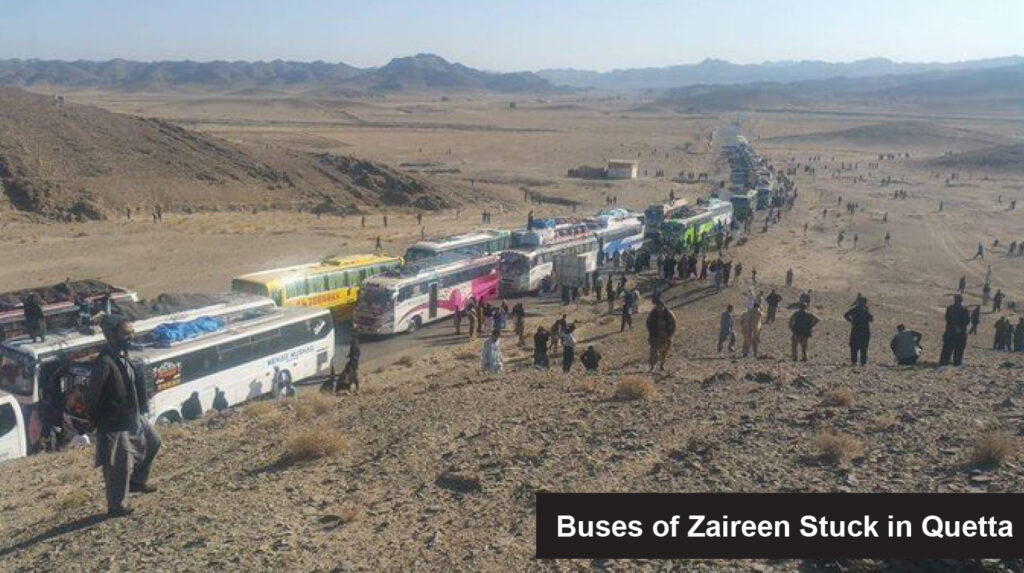 But now, with the formation of the Zaireen Management Policy for the pilgrims who wish to travel to Iran, Iraq and Syria on the footing of Hajj policy, things are likely to change. And tour operators are worried too. 
For starters, the new policy makes the provision of certain services necessary, and adds conditions that contribute to increasing the price of the pilgrimage, which will decrease the number of people going and be bad for business.
A package will now comprise of the typical Rs 65,000 for a ziyarat package, which includes visa, transport, food, stay and Ziaraat. In addition to this, there will be a Rs1500 fee for Muhafiz and Welfare fund, Rs1500 for ZCX tax, Rs500 for information education and training, Rs 4000 for luggage identification and baggage expense, Rs 3500 for insurance and the total package will cost Rs 76,000.   
And with the ongoing situation, there are other costs that pilgrims and tour operators will have to incur. This include a Rs3,800 fee for 5 percent performance guarantee, Rs16,000 for two Covid-19 tests, $500 (Rs85,000 for the travel), Rs20,000 for android mobile that every pilgrim must be given, Rs7,500 for group operator service charges, Rs1,000 for medical fitness certificate. Add all of this up and the total by-road package costs Rs 209,300 – more than what some of the by-air packages cost up until last year.
While the steps are necessary, especially keeping in mind current conditions, tour operators are less than understanding. Speaking to Profit, Voice of Karwan Salaar Pakistan President, Syed Nadeem Haider Abidi, said that the cost has increased far too much. "Previously, according to our calculations, the by-road package costs Rs 65,000. With the new new management policy it has more than tripled, and the by-air package has gone well over Rs 300,000.
Another point that he raised was that this management package was even stricter than the ones in place for Hajj, despite the fact that Hajj takes place once a year while zaireen go for pilgrimage throughout the year. "The Ziaraat pilgrimages should not be dealt with on the footing of Hajj because Hajj is performed once in a year, and its package is fixed whereas every Ziaraat package is different from the other," he said.
"For example, the ziaraat pilgrim expenses throughout the year would be different from cost incurred during Muharram or Safar for pilgrimage like that of Umrah package which is different in Rabiul Awal, Rajab, Shaban and Ramazan."
The regulation question
What this story is about, at the end of it, is government regulation, and whether you support more of it or less of it. Naturally, the government wants to stick its foot when it sees something going on, and hopefully stick to it for the purposes of correcting some irregularity or protecting people. For businesses, such as the Ziarat Group Organiser (ZGOs), regulation is bad for business.
So what is the government proposing with this new policy? For starters, they want all ZGOs registered with them and to have licenses. This is fair enough, since it might even help consumers in not getting tricked by sub-par tour groups. It also helps existing businesses by creating barriers to entry and discouraging new entrants.
The ministry also says it wants to establish special embassies to facilitate the zaireen. Again, this is good for business. The problem is the rising costs and prices, especially since the things the government is offering such as financial services, to the tour groups, they were already getting done through other non-official channels, and for cheaper.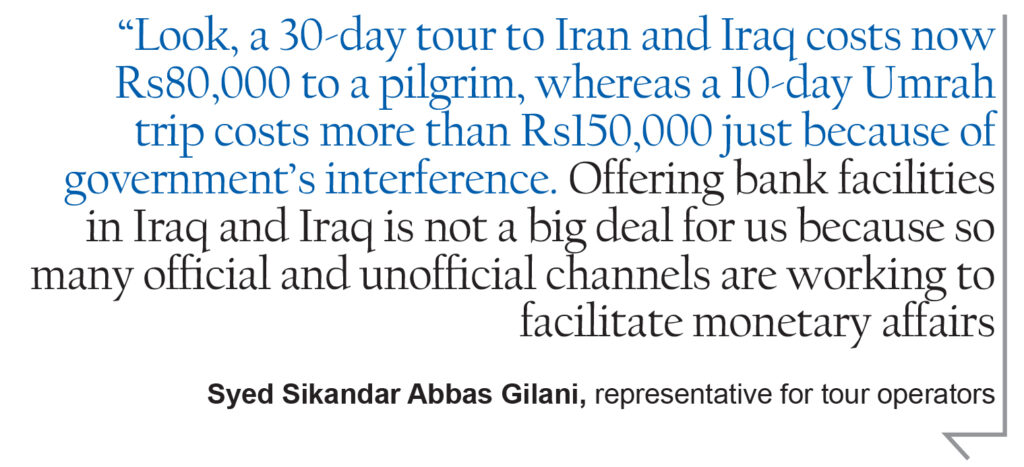 "Look, a 30-day tour to Iran and Iraq costs now Rs80,000 to a pilgrim, whereas a 10-day Umrah trip costs more than Rs150,000 just because of government's interference," said Syed Sikandar Abbas Gilani, a representative of tour operators.
"The condition of the Iraqi government that a visa be approved by their government has neither bothered us, because at the end of the day, the embassy issues a visa against $40 in Islamabad or $80 in Tehran. Similarly, offering bank facilities in Iraq and Iraq is not a big deal for us because so many official and unofficial channels are working to facilitate monetary affairs. We request the government to make it less regulated so as to let the operators work as they are working." 
However, on the condition of anonymity, a number of prospective and former zaireen have said that they would actually support the government in this move towards regulation, because a lot of the ZGOs operating fleece their customers by providing sub-par facilities. "They advertise one thing and provide another, and we cannot even complain," said one pilgrim.  
Another pilgrim from Muzaffargarh, who did not wish to be named, said ZGOs must come under scrutiny because they exploit the visitors. The pilgrim has been spending Arbaeen in Iraq for the last 20 years and has seen the exploitation of visitors, mostly old people and illiterate, by the ZGOs. 
Infrastructure Development
While the price has definitely risen and caused problems, one of the important things happening is the infrastructure development that is supposed to come out of this new policy.
A Directorate General office will be established at Karbala in Iraq, while its subordinate Directorate offices will be established in Mashhad in Iran and in Quetta. Quetta is a particularly important point, since this is where all of the zaireen gather before entering Iran via road, and is the final point for embassy issues.  
Tour operators showed mixed directions to the infrastructure development.  Akhtar Shah said more than the government's infrastructure, they needed a consulate of Iraq and Syria, and a more efficient consulate of Iran in Quetta.  
"When we move to Iran from any part of Pakistan, a caravan's first stay is at Quetta. Sometime, we have to add up more people to our caravan and for this, we have to overstay in Quetta. But getting Iraqi visa is a problem."  
Similarly, the border point of Taftan is a thorn in the neck.  "Pakistani side of immigration is understaffed, lazy and corrupt, while Iranians have efficient border control," says a Karachi-based tour operator on the condition of anonymity. "The government needed to only enhance the capacity of the immigration and customs staff at the border point."  
"We don't need any accommodation service. When we're going to Iran, we are always in a hurry to go there and when we are returning, we are again so eager to reach our home, so there is no point in setting up any extra facilities at Taftan."
Former state interior minister Shehryar Afridi during his tenure in 2018 ordered speedy disposal of immigration work at Taftan and because of his intervention, one million zaireen who wanted to spend Arbaeen in Iraq passed through the border in an efficient way. Later on, the same lethargy returned to the point.   
A particular low-point was when during last year's Arbaeen, when the Chehlum of Imam Husain is observed, the Pakistan-Iran border remained shut for two weeks, leaving more than 300,000 people stranded in Taftan.
Clearly, the policy has been met with concerned caution at best by tour operators, and open hostility at worst. Is it bad for business? Yes. But is it good for the people going on these tours? It depends, it is them that have to pay after all, and these new increases mean a lot of people will no longer be able to afford these pilgrimages. However, this might ensure better and more transparent visits.
One of the committee members tasked with designing the policy said that the government's intention was to facilitate the zaireen, and not to create troubles for them.  "I have also been to such tours back in 2014 and 2016, and I found many Zaireen there in Karbala that had complaints. We want to address their concerns," he said. 
"We hear that one million people go to Iran, Iraq and Syria during Muharram and Safar days. This is not a small number. It's more than those going to Hajj or Umrah in Ramazan. How can the government leave this sector unattended? Maybe the government's intervention makes the ziarat tour expensive but I assure you I will not let this happen and will defend the rights of Zaireen."