LAHORE: Pakistan's consumer confidence has touched an all-time high of 115 in quarter two of 2018, according to "The Conference Board Global Consumer Confidence Survey", up eight points from Q1 2018.
The country now ranks 9th in the world and in comparison, arch-rival India was ranked 3rd, however, its consumer confidence was measured at 124 points, a fall of six points from Q1 2018.
According to the report, "In Pakistan, consumer confidence has reached an all-time high of 115, following an 8-point increase. Consumers in Pakistan are increasingly optimistic about job prospects and their personal financial situation.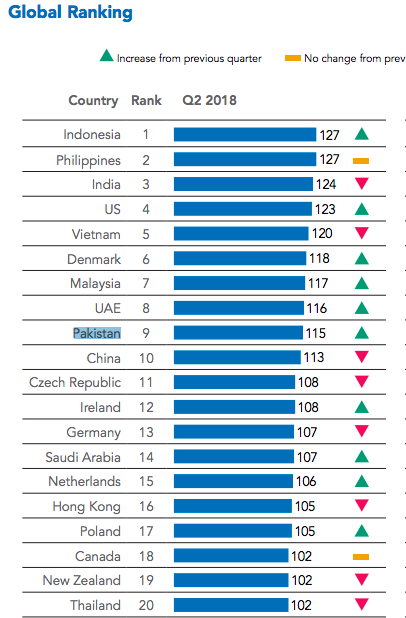 However, it is uncertain whether the high level of confidence can be sustained in the future. Pakistan's new government is likely to approach IMF for assistance to address the country's worsening external balance, which might lead to significant fiscal and monetary tightening. This, along with rising consumer prices, will pose major challenges to consumer confidence post-election."
Pakistan is currently negotiating with the IMF and on Tuesday Finance Minister Asad Umar said that its balance of payments crisis was over.
"So, Pakistan's immediate balance of payment crisis is over. I can tell you categorically that we do not have a balance of payment crisis anymore," he had told a news briefing, without mentioning the IMF.