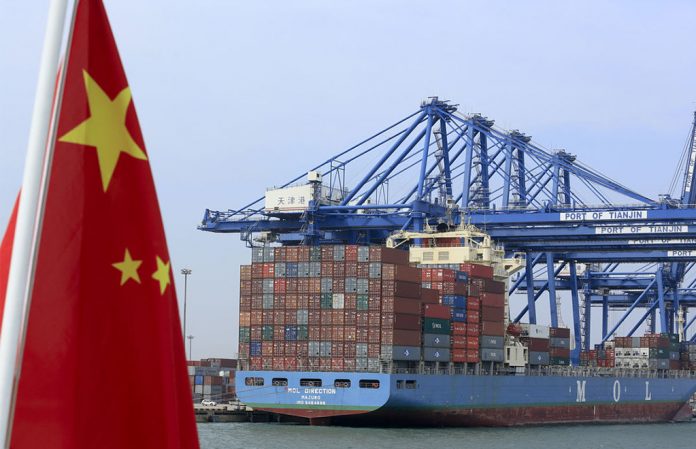 KARACHI: To address under-invoicing of imports, Pakistan and China have reached an agreement to initiate digital exchange of trade data from April 30th, 2018.
This move is being carried out in lieu of bulging bilateral trade between Pakistan and China, which is hugely in favour of the world's largest economy, reported The News.
Tax officials stated electronic data exchange platform would commence operations from end of April 2018.
An official of the Federal Board of Revenue stated beta-testing of this electronic data exchange platform is scheduled to be held this month.
They shared a memorandum of understanding for data exchange will be inked between Pakistan and China and draft of the agreement had already been finalized.
In a meeting between China's and Pakistan's commerce ministry officials last month, the former agreed to launch an electronic data exchange, said an official.
He said the formation of trade data exchange would help control under-invoicing imports from China, which was damaging Pakistan's industry.
Last month, Pakistan Today quoting a Pakistan Business Council (PBC) research had reported about the variances and under-invoicing of imports between Pakistan and other trading partners including China.
Comparing figure of imports made by Pakistan from China and vice versa exports from the latter by PBC revealed an extraordinary difference. During the year 2016, apparel import from China were recorded at $60 million compared against reported exports by China of $329 million.
A similar pattern can be seen in the data reported by other trading partners mentioned above in the chart as China's reported figures are five times higher than Pakistan' volume of imports simultaneously.
It shows major under-invoicing and mis-declaration of imports is happening at Pakistan's end. Textile imports from China are coming into Pakistan without paying the actual amount of duty, causing massive losses to national exchequer and destroying the domestic industry.
This anomaly highlights that Pakistan urgently needs updating of its reporting mechanism to restrict the mis-declaration of imports, which is also robbing national exchequer of precious tax collection during customs.
Furthermore, the disparity in synthetic fibre and garments imported from China by Pakistan for 2016 were recorded at $269 million compared to exported figures in same period of $739 million by China. This translates into Pakistan's reported imports of synthetic fibres from China are just 36% of the figures reported by China as exports to Pakistan.