Black Friday is upon us!
If you are among the people who have an overzealous passion for all the wrong reasons, Black Friday can also be called the Good Friday or the White Friday but if you are feeling a little too religiously inclined you can also call it the Blessed Friday.
Whatever you may feel about the name, the fact remains that it is an occasion of great joy since companies all over the world, who fleece the consumers entire year round, take pity on the average market-goer and roll out sales and discount offers hitherto unknown.
Pakistan, in the recent years, has also become one of the countries where Black Friday is a major part of the business landscape and different companies, from mega superstores to online shopping forums all indulge in the craze that is Black Friday.
The list below directs you to the online platforms ONLY where you can shop to your heart's desire and not get into an ugly stampede as witnessed below.
1. Up to 80% off at Yayvo.com
Head over to Yayvo.com if you fancy discounts of up to 80% on electronics, fashion and home decor items.
2. Daraz.pk with amazing discounts and flash sales
The pioneers of Black Friday sales in Pakistan, Daraz.pk has some of the best items for you at considerably less price so if you really need to feel blessed this Friday, head over to their site and splurge on your coveted items as much as you wish.
3. Friday Bazaar sale at ishopping.pk
Keeping away from the entire Black Friday narrative, ishopping.pk has some exclusive discounts and amazing products that in the spirit of shopping, should be checked out.
4. White Friday deals at homeshopping.pk
Talk about alternative advertising. Not only does homeshopping.pk involve itself in the good/white/blessed Friday debate but with discounts of up to 70%, the online trip will be worth your time.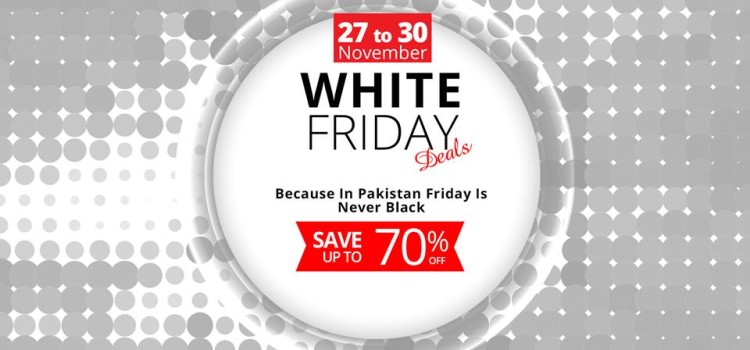 5. Mygerrys.com Black Friday sale
A relatively new site in Pakistan but for discounts up to 85% you can definitely browse through mygerrys.com to purchases that one thing that is always out of your budget.