Jodie Whittaker has been announced as Doctor Who's 13th Time Lord – the first woman to be given the role.
The identity of the new Doctor was revealed in a trailer after the Wimbledon men's singles final in which Roger Federer became the first person ever to have won 8 Wimbledon finals.
Whittaker, 35, is best known to U.S. TV viewers as Broadchurch's Beth Latimer. The role is "overwhelming, as a feminist" said the new Doctor.
Casting the first female Doctor is something many viewers had been calling for as strong female-led stories have been successful on the big and small screen in recent years, in films ranging from The Hunger Games and Star Wars to Wonder Woman, and in TV series like Game of Thrones.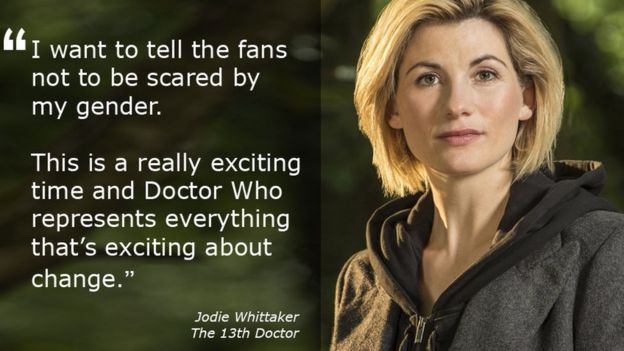 Even so this decision has lead to many mixed reactions from fans, while many supported Whittaker being the 13th Dr, not everyone was happy.


Although the choice of Whittaker creates a fresh buzz around the series, the feminisation of the character automatically offers exciting new possibilities and is expected to increase viewership of the show.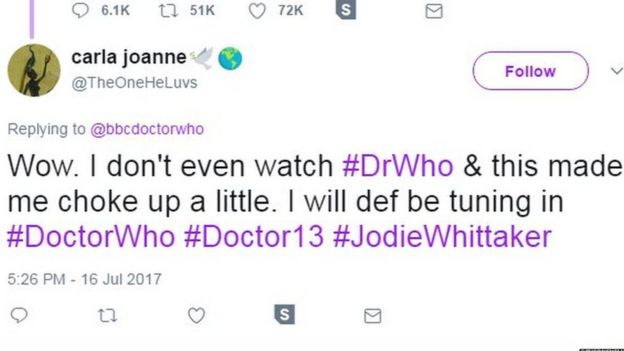 We'll get our first glimpse of Whittaker as the Doctor at the close of this year's Christmas special – in which the two oldest Doctors will join together for one last hurrah, after which we'll have to wait until autumn of 2018 to see her in action during her first full season.